Writing Rock Stars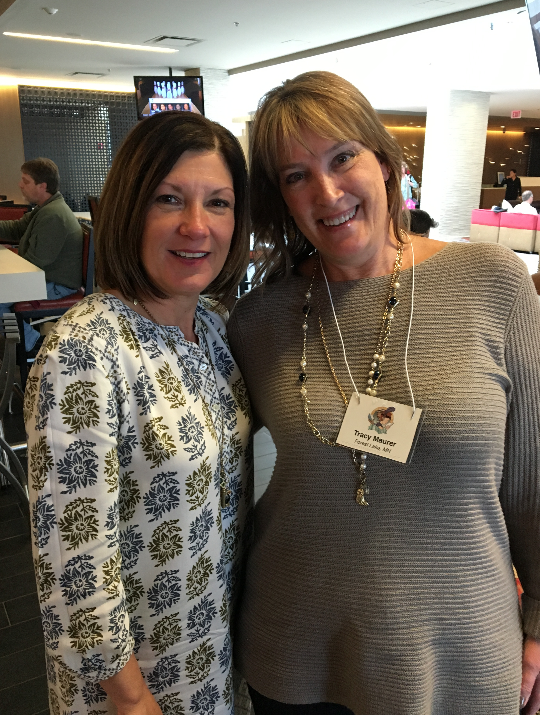 Meeting Candace Fleming (above) was pure luck, back in 2009. On the other hand, I stalked M. T. Anderson at a book fair once. With my children. They haven't forgiven me.
I'll admit it, writers are my rock stars. But not just the famous writers. My writing critique group. My writing colleagues. The writers I teach in workshops. They're committed. They're enthusiastic. They're talented. They're learners. In my world, they all rock.
Over the years, I've met many of my writing heroes (and besties) through my MFA program in Writing for Children and Young Adults at Hamline University. I've also met awesome writers at the Loft Literary Center in Minneapolis, the Shire Literary Center in Stillwater, and at the Society of Children's Book Writers and Illustrators (SCBWI) conferences. Sometimes, we've met just by good luck.
It's not just WHAT they write that explains why admire them. It's HOW they write. Candace Fleming, shown in the photo, showed me how to kick-start a project by reviewing a stack of books—at least 50 titles—on a similar topic or in a similar genre. She's the author who assured me that we can have yet another book on the same subject, if the new book has something fresh about it. There were a ton of books on the Lincolns, but none like Candy's award-winning book The Lincolns: A Scrapbook Look at Abraham and Mary (Schwartz & Wade, 2008). She inspired me to go forward with Noah Webster's Fighting Words (Millbrook, 2017).
Who are your heroes? Who inspires you?
I wish I could thank all of my heroes, don't you? I want to tell them: You ROCK!
In the meantime, I'll keep stalking them one at a time. Barbara Kerley, you're up next.