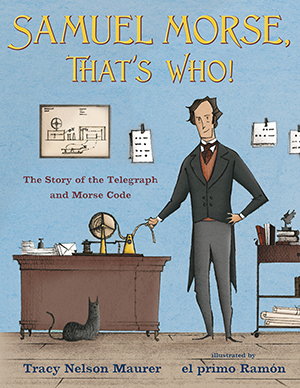 ---
About The Book
Back in the 1800s, information traveled slowly. Who would dream of instant messages?
Samuel Morse, that's who!
Who traveled to France, where the famous telegraph towers relayed 10,000 possible codes for messages depending on the signal arm positions—only if the weather was clear? Who imagined a system that would use electric pulses to instantly carry coded messages between two machines, rain or shine? Long before the first telephone, who changed communication forever?
Samuel Morse, that's who!
Who can turn the book's jacket over for a BONUS POSTER of the International Morse Code?
You, that's who!
Reviews
"The text effectively explains how the invention works as well as how it came to be, and young readers and listeners just may be inspired to try some inventing of their own. An excellent, entertaining choice to highlight social-emotional skills, history, and STEM."— Kirkus Reviews
"In a frank, upbeat style, Maurer conveys to young digital natives what it meant to communicate via telegraph: 'In the early 1800s, nothing traveled long distances fast. So, who would dream of instant messages? Samuel Morse, that's who!'...The key takeaway, that the most innovative new technologies begin with a spark of imagination, is sound." — Publishers Weekly
"Engaging, light text…provides relevant connections for students in its portrayal of great success spawned from failure and revision of plans and ideas. Endpapers include a time line of Morse's life, facts about the telegraph, an extensive bibliography, and an author's note that connects Morse's code to the modern binary language of computers. VERDICT This is an excellent biography on a lesser-known figure; add to collections looking for inventors and makers. As it turns out, . . . amuel M - - - r . . . e was a predecessor of the maker movement." — School Library Journal
Recommended
"The late-blooming, lovable loser approach to Morse's story has lots of charm, and Ramón's digitally colored pencil illustrations leaven the square-jawed protagonist's travails with gentle touches of humor. A timeline, bibliography, trivia bits, and even a photograph of early nineteenth century women telegraph operators are included." — Bulletin of the Center for Children's Books
"Maurer follows up her noted John Deere, That's Who! (2017) with another accessible exploration of an instrumental figure in STEM... A fun, informative way to tap into historical inventions." — Booklist
"Maurer puts Samuel Morse's failures front and center in this spirited picture-book biography...[helping] to humanize the famous inventor—and quickly draw readers in. ...A valuable lesson in grit and determination." — The Horn Book
Honors
A Junior Library Guild Selection